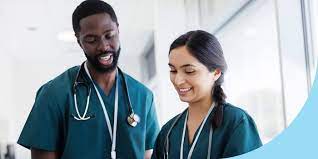 Get hired by the best healthcare staffing institute in Pennsylvania
Get hired by the best healthcare staffing institute in Pennsylvania
Flag Star Nursing can help nurses find registered nurse jobs in Pennsylvania. For those who are looking for a career in the healthcare industry, look no further and get in touch with the best CAN staffing agency in Pennsylvania. If you are struggling to find the right job, or you simply want to move to Pennsylvania, now you can find your dream job through Flag Star Nursing easily. Don't worry; the recruitment process will be made easy to you so that you can be at your peace. It is understood that searching for a nurse job can be daunting; this is why Flag Star Nursing is the best healthcare staffing institute in Pennsylvania.
Flag Star Nursing can assist registered nurse, license practical nurse, certified nurse assistant, and direct care workers get to settle in Pennsylvania. Here at Flag Star Nursing, you will find all sorts of jobs. The agency is always looking for the best and qualified people to join their team. Some of the jobs that you might be interested in are licensed practical nurse, staffing coordinator, direct care worker, healthcare recruiter, certified nursing assistant, registered nurse, and more. You can directly apply to these vacant positions, rest assured, your recruitment process will be easy.
Flag Star Nursing is always looking for professional certified nurses, registered nurse, LPN, and direct care workers who are committed towards their profession. It is necessary to hire only the best in this field because healthcare is one of the most crucial sectors. Flag Star Nursing wants to hire professionals who will care for the patience, and educate them and their family member about the health condition of the family member. Building rapport with the patients and establishing trust has always been the critical factor of nurses, and that's exactly what Flag Star Nursing is also looking for.
The agency makes sure to offer you an enjoyable and professional working place and environment, where you will learn and grow. The agency clearly understands that only a happy employee does their job in the best possible way. This is why the environment that you will be working in will be healthy and good. The end goal is to become productive, do the best job possible, and help as many patients as you can. This is the reason why Flag Star Nursing looks out for nurses who are committed to their profession. Being a member of Flag Star member, you will be working with warm and friendly staff. You will get access to 24×7 support team, health benefits will be offered, and opportunities to become permanent will be available as well.
You will be offered flexible scheduling, and you will get to choose from per-diem, part-time, and full-time positions. Choose the right position as per your flexibility. While applying, you will be appointed a designated recruiter who will be with you throughout the recruitment process. So, if you are searching for nursing staffing agencies in Pennsylvania, get in touch with Flag Star Nursing today and find your dream job.
About the Company
Flag Star Nursing is affiliated to Five Star Nursing. The agency is committed to staffing professional and deserving nursing candidates within the nursing home industry. Candidates looking for per-diem, temp-to-perm, and contract assignments can get in touch with Flag STAR Nursing to kick star their healthcare career. Flag Star Nursing can get you places in the best and the most leading facilities in the Pennsylvania area. Go on and apply for a nursing job today.
Contact Details
Flag Star Nursing
Phone Number: 724-673-1065
Email: info@fsnursing.com